Bike Patrol
To report an accident or other incident requiring immediate police assistance, DIAL 911 or:
Ben Franklin Bridge:
(856) 968-3301
Walt Whitman Bridge:
(215) 218-3701
Commodore Barry Bridge:
(856) 241-4801
Betsy Ross Bridge:
(856) 317-5901
PATCO:
(856) 963-7995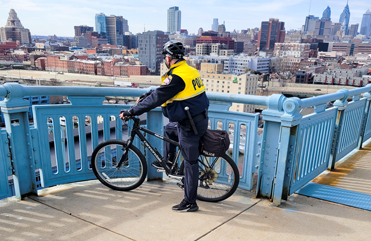 The Delaware River Port Authority Police Department Bike Patrol Unit is an extremely versatile tool for police officers who patrol Delaware River Port Authority (DRPA) and PATCO (Port Authority Transit Corporation) facilities. The unit effectively bridges the gap between vehicle patrol and foot patrol. Its versatility enables a quick response to emergency and medical incidents on the Ben Franklin Bridge (BFB) walkway and other designated patrol areas.
The officers are a highly mobile, visible presence in ordinarily inaccessible areas to automobile patrol. In addition, the officers are highly trained in negotiation tactics and are well-suited for community-oriented policing efforts.
On the BFB walkway, Bike Patrol Unit personnel can utilize their bikes or a specifically designed patrol vehicle. This enables them to navigate the narrow walkway through congested and crowded areas more easily and faster than an officer on foot. Additionally, at PATCO Transit facilities, officers can navigate the various concourses and parking areas to respond to any calls for service they may receive. As a result, officers can respond more quickly and secure the scene while waiting for other emergency personnel to arrive.
The Bike Patrol Unit can be operated on streets, sidewalks, in subway concourses, throughout parking areas, and on walkways, making them well suited for patrolling during special events or when there is a lot of foot traffic at one of the DRPA/PATCO facilities.